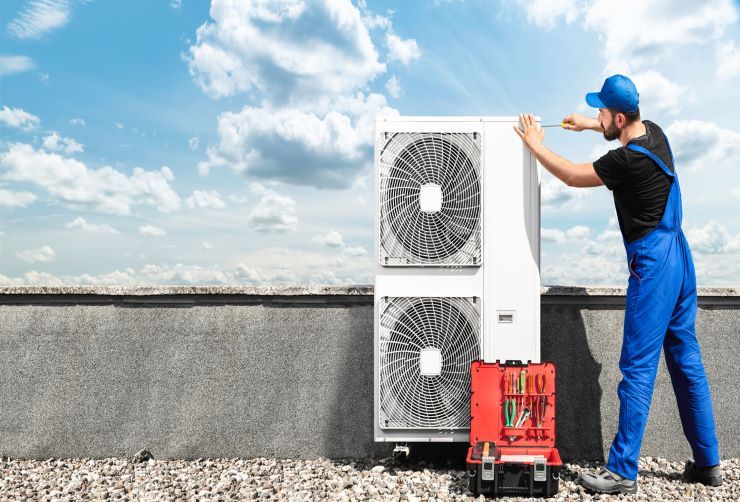 Online
Launch of IET Guide to Implementing Electrified Heat in Domestic Properties
Never has it been a better time to consider electrified heating systems in domestic properties whether that being in new builds or in refurbishments.
With the government committing to reach net zero greenhouse gases by 2050, decarbonising heat is seen as one of the biggest challenges the UK faces in meeting its climate targets.
A fundamental part of the UK government's strategy in meeting this challenge is to change from high carbon (natural gas and oil-fuelled) heating systems to low carbon heating including electrified heat. Existing buildings face a specific set of challenges, as installing low carbon heating tends to be more difficult and expensive than it is in new build.
The Government has announced its intentions to offer grants for £5,000 to replace gas boilers with heat pumps from April 2022 so the market and demand for heat pumps is anticipated to grow significantly.
This webinar is the launch of the IET's Guide to Implementing Electrified Heat in Domestic Properties. It has been published to support the market in this transition dispelling myths and guiding all those involved with decarbonising heat using electricity on a practical and multi-disciplinary level.
The webinar will include a presentation introducing the new IET guide, a discussion, and an opportunity to interact with the authors.


19 Jan 2022

10:00am - 11:00am
Speakers
Martin Fahey
Head of Sustainability - Mitsubishi Electric
Martin Fahey is Head of Sustainability for Mitsubishi Electric UK and Ireland. He has spent all of his working life in the air conditioning, refrigeration and heating industries in a variety of sales and engineering roles for companies prior to joining Mitsubishi Electric.
Edmund Hunt
Design Lead - Energy Systems Catapult
Edmund Hunt leads a team of user experience and user research specialists to design, develop and trial new energy propositions for our low carbon energy transition.  His work at the Energy Systems Catapult includes design and trial of Heat Plans, the UKs first outcome-based Heat as a Service proposition.
Sam Hunt
Principal Energy Consultant - SMS Plc.
Sam Hunt leads consultancy in SMS's New Energy Systems department, including energy efficiency, renewable energy and the decarbonisation of heat for domestic and non-domestic properties. Sam is a chartered engineer who has worked in energy and sustainability for more than 17 years, supporting public and private sector customers with energy management, low carbon building design and technology implementation.
Shaun Hurworth
Head of Channel Marketing - Glen Dimplex Heating & Ventilation
Shaun has worked in a range of product management and marketing roles for building services manufacturers, with over ten years' experience in developing and commercialising innovative new electric heating, hot water, and ventilation solutions with global manufacturer Glen Dimplex.
Craig Pilkington
Senior Building Physics Engineer – Building Performance Group - WSP
Craig is a Principal Building Physics Engineer, focusing on sustainability and wellbeing in buildings at WSP UK as well as the Corporate Carbon Manager in their Corporate Social Responsibility team. He has an academic background in Architecture and Planning, as well as the Environmental Design of Buildings and is a Certified Passivhaus Designer. With more than 6 years' at WSP, Craig interfaces between architects and services engineers in his role to ensure aspirations around sustainability are understood and realised.
Robert Sansom
Independent Consultant
Robert is an independent consultant with nearly 40 years' experience in the electricity industry. This includes power station operations, networks (transmission and distribution), strategy, power project development and engineering consultancy.  He has a PhD from Imperial College researching the decarbonisation of space and water heating and has been involved in several major heat-related studies, including exploring the potential role of hydrogen for heating in the context of achieving the UK's 2050 zero-carbon target.
Paul Bennett
Managing Director - BSSEC

Paul started his career as an electrician's apprentice and has worked up to become a Chartered Engineer and Chartered Director. Paul has over 30 years' experience working in electrical and mechanical building engineering design, contracting, maintenance and operation. Paul's specialisms include low and zero carbon design and build of electrical building services, mechanical building services and renewable infrastructures including heat pumps. Paul is a member of the Chartered Institution of Building Services Engineers (CIBSE), the Institution of Engineering and Technology (IET), a fellow of the Energy Institute and a fellow of the Institute of Directors (IoD). Outside of project work Paul writes courses for the IET, IoD and EI about technology and career development.

 

<!—Lead forensics script -->