Lecture
Optical communications: Seeing Through The Cloud
Fibre from inception, current and into the future
Prof. Polina Beyvel has over 25 years of research as a Head of ONG – Optical Network Group at UCL's Dept. of Electronics & Electrical Engineering.
Her research interests are in the area of optical communications and networks on different scales from trans-oceanic distances to intra- and inter-data centre communications and routing.
This includes the analysis and implementation of wavelength-routed optical networks, high-speed optical transmission, and the study and mitigation of optical fibre nonlinearities.
She was one of the first to show the feasibility of using the wavelength domain for routing in optical networks, and designed wavelength-selective devices needed for their characterisation and implementation.
More recently she has focused on the study of capacity limits in ultrawideband nonlinear optical networks and nonlinearity-mitigation techniques and dynamically adaptive optical networks.
She has authored or co-authored more than 500 refereed journal and conference papers.
2

Continuing Professional Development

This event can contribute towards your Continuing Professional Development (CPD) hours as part of the IET's CPD monitoring scheme.

29 Apr 2022

2:00pm - 3:30pm
Organiser
London Local Network
Registration Information
These lectures are preceded by an optional lunch where there is an opportunity to network with colleagues.  
If you wish to attend this lecture please book a place on the IET website.
During the booking process you will have the opportunity to pre book a lunch at Savoy Place. 
The cost for a two course meal with wine is £17.89 +VAT. 
It is ESSENTIAL to pre book lunch and pay for it on this website.  
Reservations for lunch can be made up to 11pm on the Monday prior to the event (subject to availability).  
Bookings for the lecture only can be made up to noon on the day prior to the event (subject to availability).  
No payment for the event lunch can be made at Savoy Place.  
FAQ's.
You don't need to be a member to log into the system.
You can book for more than one person; you just need to add the other guest(s) name(s).
You can add any special dietary requirements during the booking process.
The website price quoted is exclusive of VAT.  VAT will be added when you pay.
Speakers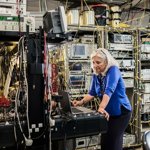 Professor Polina Bayvel, CBE
Professor of Optical Communications - Dept. of Electronics & Electrical Engineering, University of London
Polina Bayvel received her BSc (Eng.) and PhD degrees in Electronic & Electrical Engineering from University of London, UK, in 1986 and 1990, respectively. In 1990, she was with the Fibre Optics Laboratory, General Physics Institute, Moscow (formerly USSR -now Russian - Academy of Sciences), under the Royal Society Postdoctoral Exchange Fellowship. She was a Principal Systems Engineer with STC Submarine Systems Ltd, London, UK, and Nortel Networks (Harlow, UK, and Ottawa, ON, Canada), where she was involved in the design and planning of optical fibre transmission networks. During 1994-2004, she held a Royal Society University Research Fellowship at University College London (UCL), and in 2002, she was appointed to a Chair in Optical Communications & Networks.
Professor Bayvel was the recipient of the Royal Society Wolfson Research Merit Award (2007-2012);
2013 IEEE Photonics Society Engineering Achievement Award;

Reasons to attend
If you have a professional or natural curiosity and interest in To hear and learn about the fastest edge of the high-capacity optical telecommunication technology
Location
IET London: Savoy Place

2 Savoy Place
London
WC2R 0BL
United Kingdom
The London headquarters of the IET.
We are committed to having an environmentally responsible event portfolio and we are working hard to plan and implement events which reflect sustainable event best practices.
We are working with venues and suppliers that demonstrate best environmental practices, in particular achieving zero food waste, no single-use plastics, along with recycling and re-use of paper, metal, plastic and glass.
In order to reduce the carbon footprint of the event, we strongly encourage delegates to walk, cycle or use public transport to attend the event.
Further information about environmental sustainability and IET Events can be obtained by contacting rebecca.booth@theiet.org.

Programme
1:30/11:40 Arrival for optional lunch

It is essential to sign in at the Faraday reception desk which is on the second floor for IET building before entering the Faraday Centre.

12:00 to 13:45 – Optional lunch.

13:45 - Arrival for lecture

It is essential to sign in separately for attendance at the lecture.  (Note this is required for IET attendance records purposes and is different to the Faraday signing in procedure).

14:00 to 14:45/15:00 – the lecture starts promptly at 14:00

14:45/15:00 to 15:30 approximately – questions and discussion 15:30 Optional tea/coffee in the Faraday Centre. 

Free for members. 

Non-members can purchase tea/coffee at the Faraday counter. 

(Note before entering the Faraday Centre you must sign in at the reception desk.)

Please sign out when leaving the Faraday Centre.

<!—Lead forensics script -->