Lecture
Wind Turbine Drivetrain Reliability
The tribology of premature bearing failures
Wind energy continues to be one of the fastest growing energy installations to electrical grid around the world.
In the US, wind is now the largest source of renewable electricity generation providing over 120 GW which is produced by over 70,000 turbines.
Wind turbine operations and maintenance (O&M) wind can be challenging and costly; O&M costs currently represent the single largest component of wind plant operational expenditure with drivetrain reliability remaining a significant contributor to those O&M costs.
The unique operational conditions of the bearing and gears within wind turbines has led to a number of tribological related failures, with the predominate and lesser understood failure mode attributed to a premature bearing failure referred to as white-etching cracks (WEC) or axial cracks.
Several drivers have been identified that lead to WEC failures.
In this talk we will review the research conducted at Argonne National Laboratory on studying the impact of lubricant chemistry, material cleanliness, and stray electrical currents have on promoting WEC failures.
1

Continuing Professional Development

This event can contribute towards your Continuing Professional Development (CPD) hours as part of the IET's CPD monitoring scheme.

14 Sep 2022

2:00pm - 3:30pm
Speakers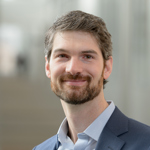 Aaron Greco
Group Manager - Materials for Interfacial Mechanics & Materials Group, Applied Materials Division, Argonne National Laboratory's

Aaron Greco is the Group Manager for Argonne National Laboratory's Materials for Interfacial Mechanics & Materials Group in the Applied materials division. he also serves as Principal Investigator on a project designed to improve the reliability of wind turbine drivetrains.

The team accomplishes this through systemic investigation of field failures, such as surface contact failures of bearings and gears, and through laboratory testing of material and lubricant technologies to mitigate failures. Greco also supports research efforts to improve the fuel efficiency of vehicles through the development of various lubricant and surface treatment technologies to reduce frictional losses.

More information can be found at: https://www.anl.gov/profile/aaron-c-greco

 

<!—Lead forensics script -->